The Inn at Great Neck is centrally located in the heart of Nassau County, Long Island, with easy access to the area's top venues, New York Metro-based airports and the Long Island Rail Road for convenient transportation throughout the five boroughs and into New York City. You can walk to the train and arrive in Manhattan in 22 minutes or take a share ride to some of our most popular sporting and event venues! And when you return to the hotel be sure to grab a drink and/or bite at the new Marco Polo's Bar & Restaurant inside Inn at Great Neck.
UBS Arena
2400 Hempstead Turnpike, Elmont, NY 11003
About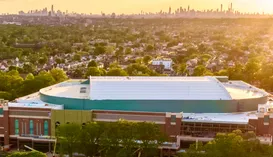 UBS Arena is a multi-purpose arena located at Belmont Park in Elmont, New York. Opened on November 19, 2021, it is the home of the New York Islanders of the National Hockey League (NHL), replacing the Nassau Coliseum.
Located within Belmont Park, a historic park that has been visited by the discerning guest for entertainment for over a century
Design inspired by iconic New York landmarks, including Central Park, Ebbets Field, Grand Central Terminal, Park Avenue Armory, and Prospect Park Boathouse
Two outdoor terraces open to all guests
Best sightlines in Metro New York allowing for a more intimate fan experience
A state-of-the-art sound system that leverages world-class acoustics to amplify the audio experience
The new home of the New York Islanders, with design input from Lou Lamoriello, the 2020 GM of the Year, and Barry Trotz, the 2019 Coach of the Ye
Modern Lounge & Lobby perfectly suited to meet with clients or coworkers
8 bars with views of the ice so you never miss a moment of the action
The largest arena scoreboard in New York State with two levels of high-resolution LED ribbon boards and industry leading game presentation
Getting There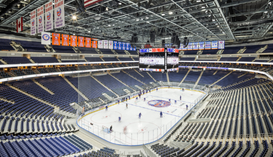 RIDESHARE
Drop-off and pick-up location
Car access is only via Cross Island Parkway exit 26D & Green Road.
BY CAR
Cross Island Parkway
Exits 26A, 26B, 26D (depending on where you're parking or dropping off)
Citi Field
41 Seaver Way, Queens, NY 11368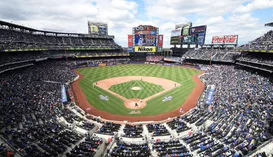 About
Completed in 2009, it is the home field of the New York Mets of the National League East division of Major League Baseball.
The stadium was built as a replacement for the adjacent Shea Stadium, which opened in 1964.
The $850 million baseball park was funded with $615 million in public subsidies, including the sale of NYC municipal bonds that are to be repaid by the Mets plus interest.
The first game at Citi Field was on March 29, 2009, with a college baseball game between St. John's and Georgetown.
Citi Field has a capacity of 41,922. It has over 15,000 fewer seats than Shea Stadium.
All the seats in the park are green – in an homage to the Polo Grounds, longtime home of the baseball Giants and the original home of the Mets.
The front entrance of Citi Field features a rotunda named after Brooklyn Dodgers legend Jackie Robinson and honors his life and accomplishments.
Behind the center-field scoreboard is the FanFest area, an expanded family entertainment area that includes a miniature wiffleball field replica of Citi Field called Mr. Met's Kiddie Field, a batting cage, a dunk tank, video game kiosks and other attractions.
Getting There
LONG ISLAND RAILROAD (LIRR) – .1 miles from Hotel
stop is same line from great neck to citifield – wordsmith
Those traveling from Hotel Long Island or southern Queens on other branches can reach Citi Field by changing trains at Woodside, just a five-minute ride from the ballpark.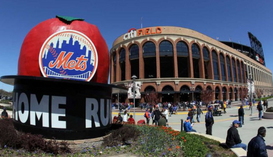 RIDESHARE
Once you exit Citi Field, open the Uber app and slide the selector to your desired vehicle option. Request when ready and select which designated Uber pickup zone you're at. Select the cross streets and confirm your pickup location.
BY CAR
Take the Westbound Southern State Parkway to the Northbound Cross Island Parkway to Whitestone Expressway exit 13D to the Northern Blvd/Citi Field exit
OR Take Westbound Northern State Parkway/Grand Central Parkway exit 9E-Ci Field/ Northern Blvd East exit.